Custom Stuff 1

Information presented below this line is outdated syntax or information used for Custom Stuff 1. It will not work with Custom Stuff 2.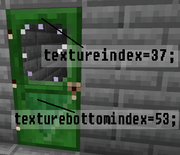 The texturebottomindex is an attribute exclusively used by the
door
-type block. It's works in exactly the same way as
textureindex
, except that it designates the texture index of the
bottom
half of the door block. The top half of the door block will be specified by the textureindex attribute, of course.
To add this value, copy the following line substituting the shown index for that of the bottom half of your door in your texture file.
texturebottomindex=22;

Despite what you may think, this attribute does not texture the bottom face of a normal-type block. In that instance, you'll need to define the bottom face with the textureindex attribute, and use Directional Texture Index for the other five faces.
Ad blocker interference detected!
Wikia is a free-to-use site that makes money from advertising. We have a modified experience for viewers using ad blockers

Wikia is not accessible if you've made further modifications. Remove the custom ad blocker rule(s) and the page will load as expected.