| This Article is up to date with Custom Stuff 2 | |
| --- | --- |
The pane block type is used for making blocks like the vanilla glass panes.
In Vanilla, this type of blocks currently is used for the iron bars and glass panes.
Pane Block Example (CS2 0.9.10 and above)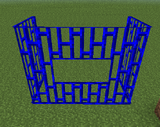 mod.js
config.addBlockIdProperty("cobaltBarsID", 2509);
mod.addBlock("cobaltBars.js", "pane");

blocks/cobaltBars.js
id = config.getBlockId("cobaltBarsID");
name = "cobaltBars";
material = "iron";
stepSound = "metal";
creativeTab = "buildingBlocks";

displayName[0] = "Cobalt Bars";
hardness[0] = 5;
resistance[0] = 30;
toolClass[0] = "pickaxe";
harvestLevel[0] = 2;
textureFileXP[0] = "cobaltBars.png";
textureFileXN[0] = "cobaltBars.png";
textureFileYP[0] = "cobaltBars.png";
textureFileYN[0] = "cobaltBars.png";
textureFileZP[0] = "cobaltBars.png";
textureFileZN[0] = "cobaltBars.png";
addToCreative[0] = true;

Pane Block Attributes
| | |
| --- | --- |
| Required Attributes | Optional Attributes |
textureFile and textureIndex
In CS2 versions for 1.4.7 and below, CS2 0.9.9 or below, textureFile was used to specify the texture sheet and textureIndex was used for identifying the specific icon within the texture sheet. If using CS2 0.9.9 or lower, make sure to use both of these attributes.

Older Examples and Information for Custom Stuff 1.
Example Pane Block (CS1)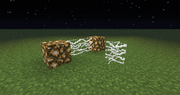 name="Barbed Wire Fence";
id=196;
type="pane";
texturefile="customblocks.png";
textureindex=48;
material="iron";
stepsound="metal";
hardness=3;
resistance=30;
harvestlevel=2;
toolclass="pickaxe";
opacity=1;

Pane Block Attributes (CS1)
| | |
| --- | --- |
| Required Attributes: | Optional Attributes: |
type
This must be set to 'pane' in order for the block to be of the pane type. Other types that can be used for this attribute can be found on the
type
attribute page.
opacity
Setting this attribute to a low value prevents a rather pronounced visual bug.
Ad blocker interference detected!
Wikia is a free-to-use site that makes money from advertising. We have a modified experience for viewers using ad blockers

Wikia is not accessible if you've made further modifications. Remove the custom ad blocker rule(s) and the page will load as expected.