Information, Recipes, and Pictures
The recipe for the kiln is charcoal or coal surrounded by smooth stone. The image above shows the recipe for the mud bricks. All but brown use the standard dyes, brown is made without using any dyes.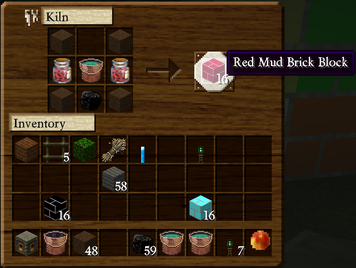 License
The Files linked to below are licensed under a Commons Attribution-NonCommercial-ShareAlike 3.0 Unported License with the following additions and waivers:
Attribution: When attributing the files, please include the URL of this page (http://minecraftmodcustomstuff.wikia.com/wiki/Gwydion's_Stuff) as part of the attribution. When using this as part of a video series, please provide the attribution in the first video in which the files are used, and in every additional video in which the mod is discussed at length.
Noncommercial: I, the author of these files, grant any user the right to use these files as part of any Minecraft-related video including those which are created for commercial purposes.
Download
There are 2 images, gwydion-terrain-x16.png and crafting3x3.png. These go into the customStuff client zip file. Crafting3x3.png goes into \customstuff\textures and the gwydion-terrain-x16.png goes into the root of the zip.
Thanks and Credits
Thanks to PsychoSupreme and Wideload for the help and encouragement to get things started and moving along.
Also to PsychoSupreme for letting me use his layout to make this page look nicer.
Thanks to Rhodox at Painterly for his permission to use his textures in my creations. His textures can be found at The Painterly Pack web site.
Planned Features
Table Saw in v1.1
Slabs in v1.1
Fences
Windows
Stairs
Doors
More power tools
Flooring
Change Log & Older Versions
Gwydion's Stuff v1 - 99 KB - Minecraft 1.2.5 and Custom Stuff 2.3.4

Initial Public Release for Minecraft 1.2.5 and Custom Stuff 2.3.4